Home >
Historic Pithole City
Historic Pithole City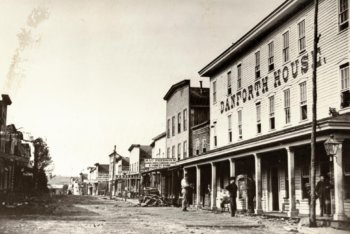 Pithole City is notoriously known in the Pennsylvania oil region as the oiltown that vanished as quickly as it appeared. The city was the first to be fully illuminated by petroleum, was home to the world's first pipeline, and had the first daily paper in Venango County. It was during the oil boom when the Frazier Well, the first well drilled along Pithole Creek, struck oil on January 7, 1865. Thomas H. Brown was the discoverer of Frazier Well, located on the Thomas Holmden farm. It produced two hundred fifty barrels of oil per day at $8 a barrel - marking the beginning of the Pithole oil boom.
Two more widely known wells along Pithole Creek were the Grant and Pool Wells. The Grant Well struck oil on August 2, 1865 and produced seven hundred barrels per day. Then a few weeks later the Pool Well, then the largest well ever in the region, was struck. For the first three days the well produced one thousand three hundred barrels a day. In little over a year the population had reached to about fifteen thousand.
However, the large amount of oil produced from the Pool Well had negatively impacted the price of oil, causing it to decrease to $2.50. Other events plagued Pithole as well. There were seventeen major fires that totaled around just over $2,000,000 in property and production losses. City blocks were destroyed, wells burned, and families suffered injuries and death. In December 1866 the population had fallen to less than two thousand and in 1867 the total oil production for the Pithole area was below one thousand barrels a day. Businesses moved to other towns and cities that had stable success. By 1870 the population was two hundred eighty one and in February 1877 the Pithole City Borough Charter was revoked.
Visit Historic Pithole City:
The site was given to the Pennsylvania Historical and Museum Commission in the 1960s. A visitor center was built and today it houses a diorama of the once booming city along with artifact exhibits and an informational film area. There are tours of the grounds available as well as special fundraising events, like Wildcatter Day and the very popular and ever ghostly Lantern Tours. While walking the streets, visitors have the chance to read the interpretive and directional signage along the city streets and imagine it as it was during it's heyday in the late 1860s.
The Pithole Visitor Center is open in June, July and August. Hours of operation are Saturdays and Sundays from 10:00 a.m. to 4:00 p.m. The site is located at 14118 Pithole Road, off of Route 227, near Pleasantville, PA.