Home >
Specialty License Plate
Friends of Drake Well License Plate
Exhibit your museum pride everywhere you go!
Any museum member who is a Pennsylvania resident with a current PA vehicle registration can own a Friends of Drake Well, Inc. specialty license plate. This plate is an official PA license plate for passenger vehicles, trucks and motor homes and costs just $48.00.
Proceeds from the specialty license plate program benefit Drake Well Museum and Park's educational mission.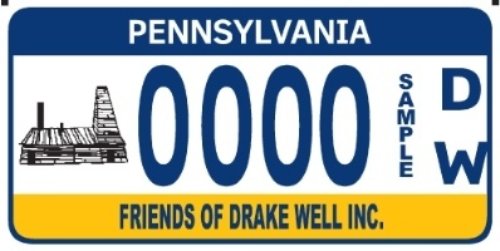 Order your Friends of Drake Well license plate today!
Download the specialty license plate application or call (814) 827-2797 for an application.
2. Return completed and signed application with a check or money order for $48.00 to:
Friends of Drake Well, Inc.
205 Museum Lane
Titusville, PA 16354
3. Allow 6-8 weeks for direct delivery from PennDOT to you.