What to See and Do
Discover the Birthplace of the Modern Petroleum Industry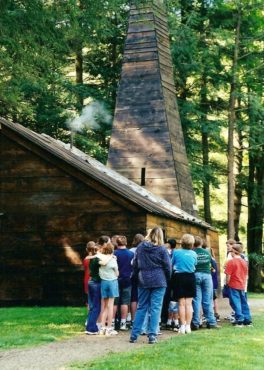 Drake Well Museum and Park chronicles the birth and development of the petroleum industry in Pennsylvania as well as its growth into a global enterprise.
The museum's 240-acre site features a board-for-board replica of Edwin L. Drake's engine house built around the National Historic Landmark well, operating oil field machinery, 12,000 square feet of interior exhibits, and the largest artifact and archival collection focused on the birth of the modern petroleum industry. Drake Well Museum and Park also boasts 2 satellite heritage sites—Historic Pithole City and McClintock Well #1.
In addition to engaging and experiential indoor/outdoor learning environments, our 3 historic sites offer an abundance of year-round recreational opportunities. Come enjoy paved bike trails, delayed harvest fly fishing in Oil Creek, modern picnic facilities, hiking trails, a neighboring 9,000-acre state park, and more.


Our Mission
Drake Well Museum and Park uncovers, preserves, and shares Pennsylvania's rich petroleum history, connecting past to present through a diversity of perspectives and inspiring our global audience to strive for a sustainable energy future.
Our Interpretive Priorities
Drake Well as the birthplace of the world's modern petroleum industry
The petroleum industry's development in Pennsylvania and subsequent growth into a global enterprise
Scientific and technological innovation
Petroleum's global impact—both positive and negative