Outdoor Exhibits
Immerse Yourself in Over 150 Years of Petroleum History
Feel the power of operating steam and gas engines. Watch history in motion as rod lines push and pull pump jacks. Smell oil being pumped. Listen to the barker call out over the valley. All while you explore the oil field equipment that powered an industry.
Drake Well Museum and Park's outdoor experience is organized into 5 themes: Drake Well Replica, Drilling for Oil, Producing Oil, Transporting and Storing Oil, and The Business of Oil.
1. Drake Well Replica
The centerpiece of our exterior exhibits is the full-size replica of Edwin L. Drake's engine house and derrick. Built in 1945, this structure encloses the famous well where Drake struck oil in 1859 and launched the modern petroleum industry. The Replica features working reproductions of the wood-fired boiler and steam engine that Drake used to drill and pump oil from the well until 1861. Exhibit operates May through October, Wednesday through Sunday.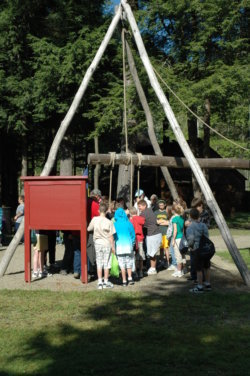 2. Drilling for Oil
Learn about the evolution of drilling while exploring our collection of historic rigs. Put your legs to work kicking down a well at our interactive Spring Pole Drilling Rig. Walk through the interior of an 80-foot Standard Steel rig (1920) and take an up close look at our Wolfe (c. 1920) and Yo-Yo (1943)—2 early examples of portable drilling rigs.
3. Producing Oil
Experience an operating Central Power oil lease. By the 1870s, 1 engine could pump multiple wells at once. Watch belts transfer power from a 20 HP engine to an eccentric gear that moves long networks of rod lines connected to pump jacks at each well. Exhibit operates May through October.
Inspect the Milton and McCurdy Brothers pulling machines used to maintain producing wells in the 20th century and discover the industry's ingenuity in our historic pump jack collection.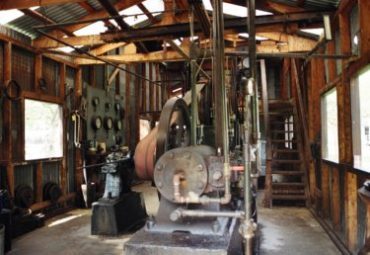 4. Transporting and Storing Oil
Follow the industry's progression from barrels to pipelines. Take in the variety of wooden barrels and stock tanks used to store oil. Observe Oil Creek and imagine the danger and sheer pandemonium involved in delivering oil to market via a pond freshet. Explore the Silver Run Pump Station established in 1896 to push oil through Standard Oil's National Transit Pipeline.

5. The Business of Oil
Visit the Grant Well Oil Company's office to see where oil men sold shares of stock, hired workers, and sent oil to market. Watch craftsmen forge oil field tools in our Blacksmith Shop (last Saturday, March-October).
---
Schedule for operating equipment and engines is subject to change and may be weather dependent.