McClintock Well #1
The world's oldest continuously producing oil well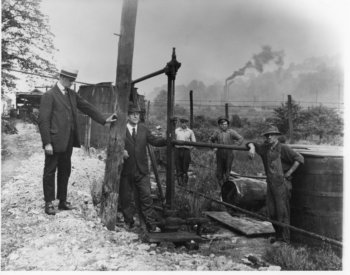 McClintock Well #1 was one of the hundreds of wells drilled along Oil Creek during the frenzy that followed the success of the Drake Well. Brewer, Watson and Company leased land on the Hamilton McClintock Farm and commenced drilling in August 1861. Using leg power, they "kicked down" the well until they struck oil at a depth of 620 feet. McClintock Well #1 initially produced 175 barrels of oil a day but was down to half a barrel a day in 1920. What makes the site remarkable is that it has continued to produce oil for over 150 years.
Over the decades, McClintock Well #1 has changed ownership a number of times. Owners included:
Brewer, Watson and Company — 1860
McClintock Petroleum Company — 1865
Robinson Oil Company — 1892
Brundred Oil Corporation — 1927
Quaker State Corporation — 1952
Pennsylvania Historical and Museum Commission — 2000
McClintock Well #1 is located on Waitz Road off Route 8 just north of Oil City, Pennsylvania. When the well is pumped, the proceeds from the oil sales are restricted to repairs, upkeep, and maintenance of the historic site. In addition to interpreting the early days of Pennsylvania's oil industry, the McClintock Well #1 site serves as a trailhead on the Erie to Pittsburgh Trail. The McClintock Well #1 interpretive area and trailhead are open dawn to dusk year-round. Admission to the site is free.