Historic Pithole City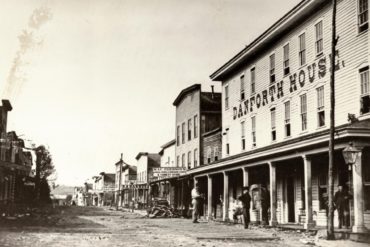 The Visitor Center at Pithole is open on Saturdays and Sundays from 10:00 a.m–4:00 p.m. from June through August. The grounds are open dawn to dusk year-round.


This historic site is located at 14118 Pithole Road, Pleasantville, PA 16341, just off Route 227 (south of Pleasantville and north of Rouseville). The GPS coordinates of Pithole are: 41.520662, -79.586201.
Historic Pithole City is administered by the Pennsylvania Historical and Museum Commission in partnership with Friends of Drake Well, Inc. For questions or more information contact Drake Well Museum at (814) 827-2797.
Admission to the Visitor Center is $5 for Adults and $3 for Youth ages 3-11. Children ages 2 and under are free.

---
Pithole City is known in the Pennsylvania oil region as the oil boomtown that vanished as quickly as it appeared. News of the successful Frazier Well along Pithole Creek was widely published in the nation's newspapers in January 1865. Boarding houses, hotels, and businesses of all kinds went up overnight. More big wells were struck during the summer of '65, and people came from all directions in hope of making a better life after 5 years of bitter war and strife in the United States. Oil drillers and speculators, gamblers and business owners, and women and men looking for work made up the 15,000 people living in the area by that fall.
Oil wells filled the Pithole Creek Valley producing more than 5,000 barrels of oil a day for a while. Thousands of teamsters hauled the barrels of oil to the nearest railroad depot at Miller Farm in the Oil Creek Valley. The city boasted a foundry and machine shop, the 3rd busiest post office in Pennsylvania, and every type of business and entertainment house imaginable. Banks handled tens of thousands of dollars in transactions daily.

But fortune was fleeting. Oil prices fell from $8.00 a barrel to $2.50. Samuel Van Syckel's pipeline opened in the fall of 1866 putting thousands of teamsters out of work. 17 disastrous fires burned wells, businesses, and boarding houses causing an unknown number of injuries and death. People fled to new oil fields and boomtowns leaving less than 2,000 people in the once thriving city by December 1866. In the fall of 1870, only 43 households and 1 hotel remained. The Pithole City charter was revoked in February 1877, and the land was sold to a farmer at sheriff's sale.
James B. Stevenson gave 90 acres of the city to the Commonwealth of Pennsylvania in 1963, and the Pennsylvania Historical & Museum Commission opened a visitors center in 1975. Today, a large diorama shows the city in its heyday with over 200 miniature buildings, the streets, and around 500 figures. Exhibits and a film tell the story of the rise and fall of the famous boomtown. While walking the grounds, visitors have the chance to read the interpretive and directional signage along the city streets and imagine the boomtown as it was in the mid-1860s.