Oil Creek 5 & 13 Stacked Trail Races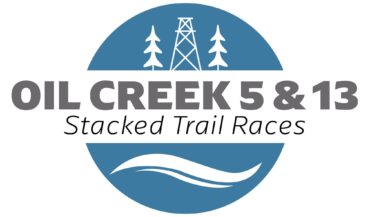 This unique trail race starts and finishes at Drake Well Museum in Titusville, PA utilizing the Gerard Hiking Trail in Oil Creek State Park.

The Oil Creek 5 & 13 mile "Stacked" Trail Races will take place on May 21. New in 2022, the race offers an exciting twist: the "Stack". The race start times will be staged 90 minutes apart with the 5 miler starting first. This allows the possibility of running one or both races. There will be finisher's awards for each race distance. The twist is that there will be additional finishers awards for those runners who are able to complete both races for a quickest "stacked" finish time. However, you will need to bring your A game as there is a strict 90 minute cutoff for those 5 mile runners attempting both race distances.
The trail races support the Friends of Drake Well and Titusville Area Trail Association's efforts to to collectively raise funds to improve local trails.
To register, visit RunRace: Find a Race | Oil Creek 5 & 13 Stacked Trail Races

Race Fees:

5 mile race (Ages 13+ and runners must be 13 by Race Day)
$35 before May 1
$40 before May 15
$50 day of race (Must be 13 by Race Day)

13 mile race (Ages 16+ and runners must be 16 by Race Day)
$45 before May 1
$50 before May 15
$60 day of race


Packet Pickup/Race Day Registration:
If you are running the 5 miler or both races register at 6:00-6:45 am May 21st, 2022 at Drake Well Museum.
If you are running just the 13 miler register at 7:00-8:15 am May 21st, 2022 at Drake Well Museum


Start Times:
5 mile race starts at 7:00 am
13 mile race starts at 8:30 am


Awards:
-5 mile race participants will receive a tri-blend T-shirt and a finishers award.
-13 mile participants will receive a technical long sleeve T-shirt along with a finisher's award.
-Participants who choose to enter and complete both races within the cutoff limits will receive an additional unique finishers award.
-The two overall finishers (one male and one female) for the 5 mile, 13 mile, and stacked race will each receive additional unique awards.
-Post race refreshments and snacks will be provided to all participants.

*5 Hour Time Limit for each individual race

**Register by MAY 1st, 2022 to guarantee your shirt

***VETERANS, ACTIVE DUTY, and DIRECT CARE medical employees get a discount for this event. Please email race director for coupon code.

Thank you to our event sponsors:
Gold
Armstrong Cable
International Waxes
Oil Creek Plastics
Silver
ABC's of Building Better Lives
Carpe Diem Endurance Coaching
Colonial Machine Company
Franklin Area Educator's Association
Hepler's Meats
Oil Creek 100 Trail Runs
Titusville Ironworks Tap House
Witherup Fabrication & Erection, Inc.
Bronze
Baillie Lumber Company
Friedhaber's Appliances
Garrett Funeral Home
Hairapy Salon 101
Morrison Funeral Home
My Custom Socks
Rhonda Trimpey
Rich Walker Farm
Titusville Area Hospital